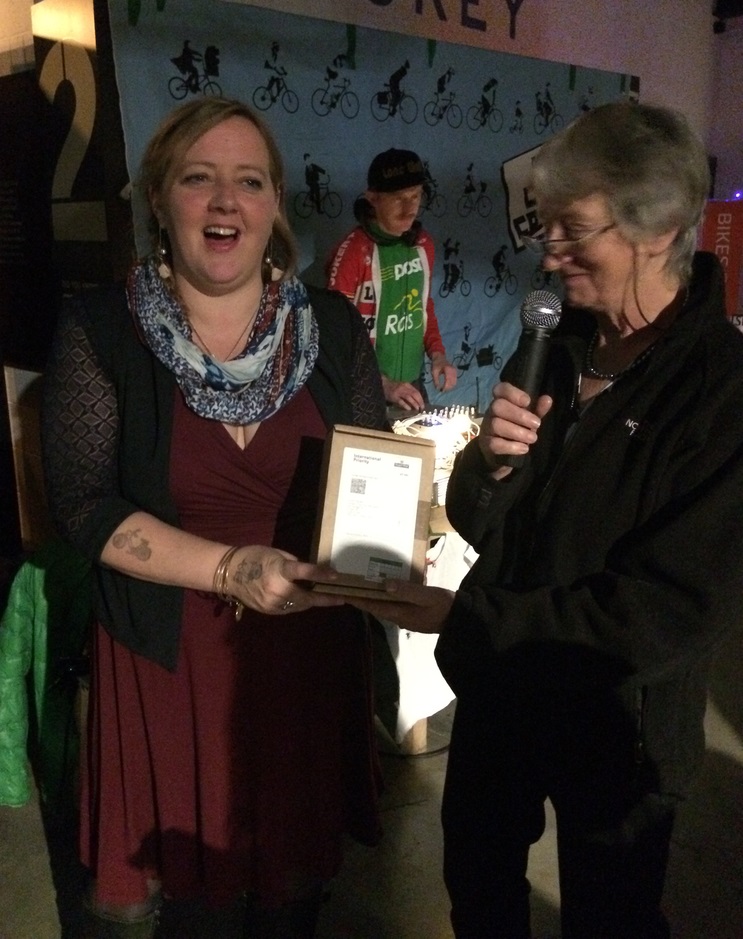 Bicycle Christmas Party - A Fine Finish to 2017
A big shout out to everyone who came along to our Bicycle Christmas Party on Saturday night in The Teeling Whiskey Distillery in Newmarket, Dublin 8. It was great to relax with members and fans of Dublin Cycling Campaign, many of whom we only see at our action-packed monthly meetings or else correspond with electronically.
A special thank you to Róisín Ní Gháirbhith, the Green-Schools Travel Education Officer with An Taisce in County Clare, for running a lively and tremendously enjoyable céilí and for organising the great musicians for the night - Eoin, Ben and Liam! Míle bhíochas do DJ Séan chomh maith do na chooonanna deasa! Pictured above is Róisín who won the lovely See Sense lights. Congratulations also to Kevin Gallagher who won the fabulous folding bike provided by Joe Dobias from Dublin Loves Bikes.
We also want to take the opportunity to say thanks to each and every one of you out there for supporting the Campaign throughout 2017. It was a non-stop year of campaigning on multiple issues at national and local levels. We sincerely hope that 2018 will bring a significant change in attitudes by Ministers and other decision-makers in regard to improving conditions for cycling and raising overall funding levels. We will be stepping up our campaigns to ensure this happens.
We look forward to reconnecting with our members and fans in 2018, beginning with our first public meeting on Monday 8th January next in the Central Hotel. We also hope that many of you will include in your list of new year's resolutions a commitment to get more involved with Dublin Cycling Campaign. Our January meeting will be a chance to set the cycling agenda for 2018 and future years so we would love to see you there. We are firmly of the view that there is great satisfaction derived from affecting change for the better and improving our city - and we also maintain that campaigning is a great way to meet up with like-minded people from all walks of life and improve your social life! Be part of the change as the fella says!
We wish you a great break.
The Dublin Cycling Campaign team
News Item
Friday, 22 December 2017 (All day)