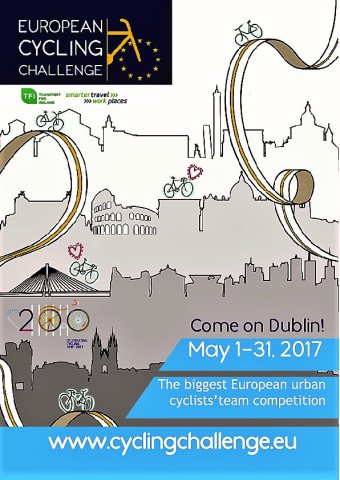 Cycle for Your City! European Cycling Challenge
The European Online Cycling Challenge is live right now until the end of May! And we want YOU to become a member of Dublin's Cycling Team, as well as Dublin Cycling Campaign's team! Just log on here at http://www.cyclingchallenge.eu/subscribe Dublin is competing with a vast array of other Irish and European cities in this FUN challenge!
You can record all your trips on your smartphone or also by uploading, or manually drawing in your trips via the website. For more info on this see http://cyclingchallenge.eu/naviki
Prizes - there will be cycle related prizes, as well as weekly goody bags to be won - if you are not in, you can't win. To get things started, we have some goody bags for fun sharable photos! If you have some, send them to cyclechallenge@nationaltransport.ie
You can help grow the team, and also be in with a chance to win a prize - if you get a friend signed up (via the Naviki app or via the www.cyclingchallenge.eu website) you can then enter a draw for one of three X-Mini Click Wireless Speakers, as well as a Cycle Challenge t-shirt for both you and your friend. Simply enter your names by clicking on the url: https://www.surveymonkey.com/r/ReferFriendECC2017​ Remember, anyone who has access to a reliable bicycle (a Dublin Bike counts) can join in. It doesn't matter if you cycle 3km or 300 km, the goal is to have fun!!
Best of luck, and regardless of however Dublin does on the leaderboard, we really hope you enjoy some happy pedalling this May!
News Item
Monday, 1 May 2017 (All day)