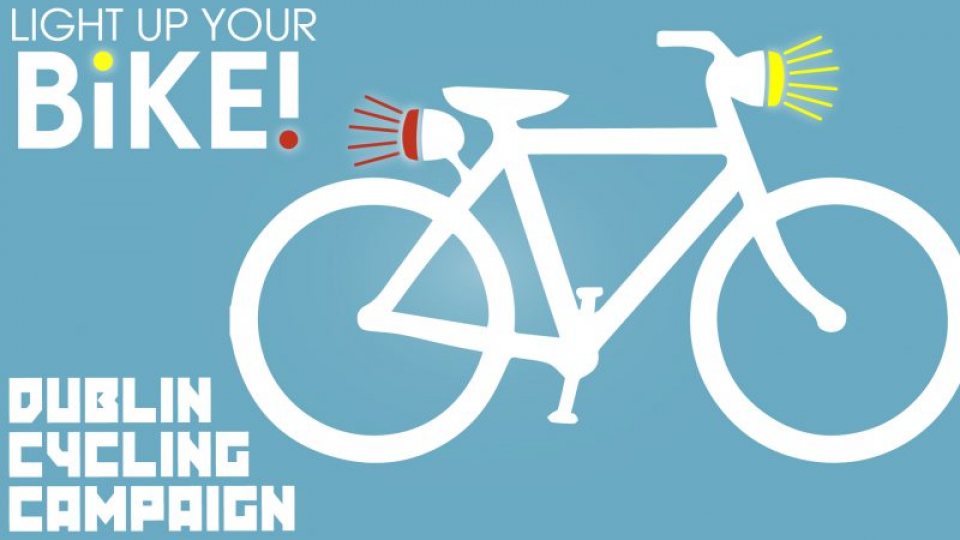 This month, to coincide with the clocks going back, we handed out more than 1,500 sets of bike lights to encourage cyclists to 'Light Up' for the Winter evenings.
With the days being shorter and the nights drawing in early, it is essential to light up your bike. Dublin Cycling Campaign is once again promoting an awareness campaign to share some advice and helpful lighting-up tips. As part of this campaign our volunteers handed out free spare lights at various locations around Dublin over the past couple of weeks. The free lights were extremely popular and we ran out very quickly on each evening that we handed them out.
Check out the video of our bike light hand out at Grand Canal Quay here.
For those of you who missed out on the free lights, please see the end of this article from some generous bike light discounts that our friends at the Dutch Bike Shop and See.Sense have offered.
Remember! Bike lights aren't just a nice accessory, they are a legal requirement. After dark you must have lights on your bike. If you are stopped by a Garda and have no lights you are liable to an on-the-spot fine of €40. Cyclists are permitted to use lights in either continuous or flashing modes (Flashing lights didn't always have legal status - [Cyclist.ie][] campaigned to have them legalised). It is also worth noting that you should have reflectors on your bike.
It's also important to note that so-called hi-vis clothing is not a valid substitute for lights on your bike, nor is there any legal requirement to wear hi-vis. If you think you can get away without lights by wearing hi-vis clothing, you are mistaken.
Here are a few further tips to help ensure your bike will be lit up when you need it to be:
BATTERIES - Always make sure your batteries are charged so your lights don't fail halfway through your journey. Get into the habit of charging them regularly. Many modern lights come with built-in batteries that you can recharge via a USB cable (to a laptop or a plug for example). You can also conserve your battery by putting your light on the flashing mode, rather than continuous.
SPARES - Keep some spare lights and/or batteries in a few different places so you don't get caught out. Invest in a few sets of cheap lights for emergency use if your main lights fail, or you can request spare bike lights from your local Council, and/or from some Garda stations. Perhaps keep a set of spares at work, and another set in a bag or jacket you use regularly when you cycle. These are your "get me home" lights.
BEWARE THIEVES - If your lights are detachable then never, ever leave them attached to your bike while it's unattended. Most thieves are opportunists so don't give them the opportunity.
DYNAMOS - If you are buying a new bike, you may consider getting a dynamo fitted. Modern hub dynamos give you good light with minimal effort, and no need to worry about theft or the batteries running out.
SPECIAL OFFERS! To coincide with our Light Up Your Bike campaign, the following bike shops & light suppliers are offering the following deals on bike lights:
The Dutch Bike Shop in Goatstown, near Clonskeagh, is offering a free set of lights with every winter service.

Irish smart bike light manufacturer See.Sense is offering 20% off on its ICON lights for Campaign members using the code: DCC20
If you're looking for an idea of what bike lights are on the market, check out BikeRadar's comparison of some of the best lights on the market - http://www.bikeradar.com/gear/article/the-best-bike-lights-for-road-cycl… .
And finally, if you're buying new lights, don't forget that Dublin Cycling Campaign members get discounts in a number of Dublin bike shops. Find out more about membership benefits via our website. http://www.dublincycling.com/join/benefits
News Item
Thursday, November 9, 2017