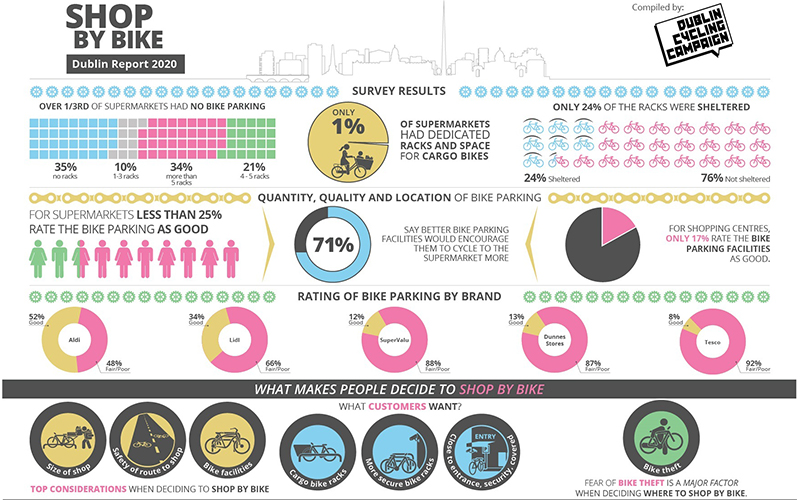 Aldi Responds Positively to Cycle Parking Survey
Supermarket chain Aldi has responded positively to the results of Dublin Cycling Campaign's recently published Supermarket Cycle Parking Survey.
The German retailer issued a press release acknowledging the survey results, which ranked Aldi as providing the best cycle parking facilities out of the big five supermarkets, followed by Lidl, SuperValu, Dunnes Stores and Tesco, in that order.
"Cycling to our stores is a great way to help the environment and we encourage customers to cycle as much as practically possible," said John Curtin, group buying director, Aldi Ireland.
"We have listened to our customers and we will now be including bike parking facilities at all our new stores and working with Dublin Cycle Campaign on our existing network of stores, which is another step in moving towards a more sustainable future," he added.
Dublin Cycling Campaign has now engaged with Aldi to try and further improve the cycling facilities available to their customers, including the provision of cargobike parking and accessible cycle parking for people with disabilities.
"With many of us living more locally these days and using local supermarkets more often, there is a great opportunity for supermarkets to upgrade and enhance their cycle parking," said David Timoney from Dublin Cycling Campaign.
"Dublin Cycling Campaign wants to work with all retailers, including Aldi, to help them achieve this change," he added.
---
News Item
Friday, 31 July 2020 - 3:30pm