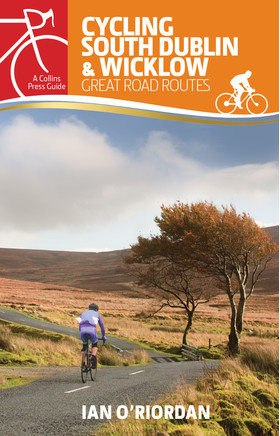 Book Review: Cycling South Dublin and Wicklow: Great Road Routes
By Ian O'Riordan
Collins Press
Paperback ISBN: 9781848893443 eBook ISBN: 9781788410489
Review by Frank Foley, a member of the Dublin Cycling Campaign
The story of Irish Olympic cyclist Liam Horner is far less familiar to those outside the inner sanctum of Irish cycling clubs and enthusiasts than those of Roche, Kelly and Elliot. Most people will not get the opportunity to take a spin with Tour de France Yellow Jersey winner Greg LeMond. However, it is exactly by including these tales, along with the history of the lands and landmarks you encounter on the cycle routes Ian O'Riordan takes us on in his new guide book for Cycling South Dublin and Wicklow, that allows the rider, and the reader, to more than just follow the road. The rides become experiences, filled with context of the people who previously lived in these areas, like John Millington Synge and Daniel Day Lewis, and let us follow the ghosts of some of our more celebrated cyclists. It also sometimes reads like a memoir, with O'Riordan recalling some of his formative cycling and lifestyle expeditions, which imbue the book with the author's love of getting out on two wheels.
The book covers twenty routes in all. The routes vary in the challenge they give the rider, from a modest 14km for those merely curious about getting to the foot of the Dublin mountains at Marlay Park, to following in the tyre tracks of the professionals by recounting the 185km second stage route when the Tour De France came to these shores in 1998. There is a good spread of challenges in between, though given the areas being covered, most do require some climbing. But, to borrow a phrase from George Mallory, we climb the mountains because they are there. Also striking is how much relative isolation is right on the doorstep of the capital city.
The routes themselves are well described, with simple though clear maps, with distances, elevations and suggested durations. Most follow a looped course, with car-parking details provided at each starting point. The strength of the guide book is how the author allows the details around the route to add to the experience without distracting from the ride. The book is a worthy addition to the already impressive walking and cycling guide book range from Collins Press, and is also available in ebook format, so no excuses for getting lost!
About the Author. Ian O'Riordan has been a sports reporter with The Irish Times for 20 years. He was born in Dublin, ran for Ireland as a junior, and spent four years on a running scholarship in America. He has run several marathons, including Athens, New York and Honolulu. He first took to road cycling in 2006 and has since ridden several major road routes throughout Europe, including the famous Alpine stages from Geneva to Nice. He lives in Glencullen, on the Dublin/Wicklow Mountains border.
Ian will address a Dublin Cycling Campaign audience on the subject of his book on Monday 10th of September at 7pm in the Central Hotel in Dublin, details here. All are welcome.
News Item
Friday, 24 August 2018 (All day)