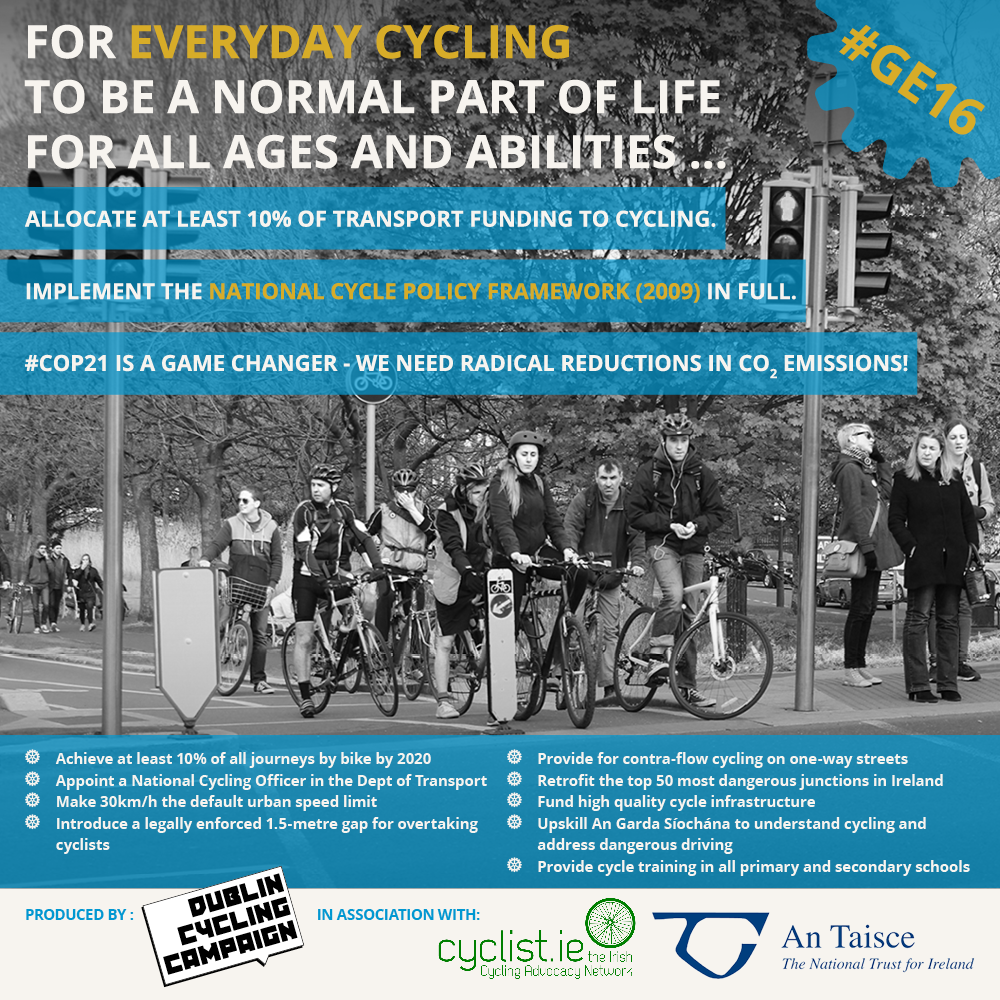 Cyclists Set out their Demands ahead of GE 2016!
With the general election just around the corner, cyclists have set out their political demands!
Our vision is for everyday cycling to be normal part of life for all ages and abilities (the '8 to 80' cohort as it is sometimes put) – very similar to the ways it is in many northern European countries. Remember also that #COP21 is a game changer – we need radical reductions in CO2 emissions from the Irish transport sector!
We want all political parties to commit to these two overarching aims:
Additionally and more specifically, we must:
Achieve at least 10% of all journeys nationally by bike by 2020 [It is currently below 2% at a national level]
Appoint a National Cycling Officer in the Dept of Transport [This is a crucial step in being able to implement the

NCPF

effectively.]
Make 30km/h the default urban speed limit
Introduce a legally enforced 1.5-metre gap for overtaking cyclists More information here
Provide for contra-flow cycling on one-way streets
Retrofit the top 50 most dangerous junctions in Ireland
Fund high quality cycle infrastructure
Upskill An Garda Síochána to understand cycling and address dangerous driving [See also our #freethecyclelanes campaign]
Provide cycle training in all primary and secondary schools
Cyclist.ie's full priorities list is available as a PDF at the bottom of the page.
Over the coming weeks, election candidates will be knocking on your door. Please relay the above points to them, explain why everyday cycling makes so much sense, and do feel free to share, tweet and post our graphic to get its message out there. We have also attached a printable PDF version below.
Dublin Cycling Campaign and Cyclist.ie will be working hard to ensure that all political parties understand the issues and see the value of putting the bicycle at the heart of transport and public health policies. If you support our work representing cyclists, please considering joining Dublin Cycling Campaign or, if you are outside the capital, Cyclist.ie – the Irish Cycling Advocacy Network. This support makes a real difference in enabling voluntary organisations with their work. Thank you!
News Item

ge16_-_graphic_allbullets.pdf

cyclist.ie_priority_list_2015_dec_02.pdf
Saturday, 23 January 2016 (All day)