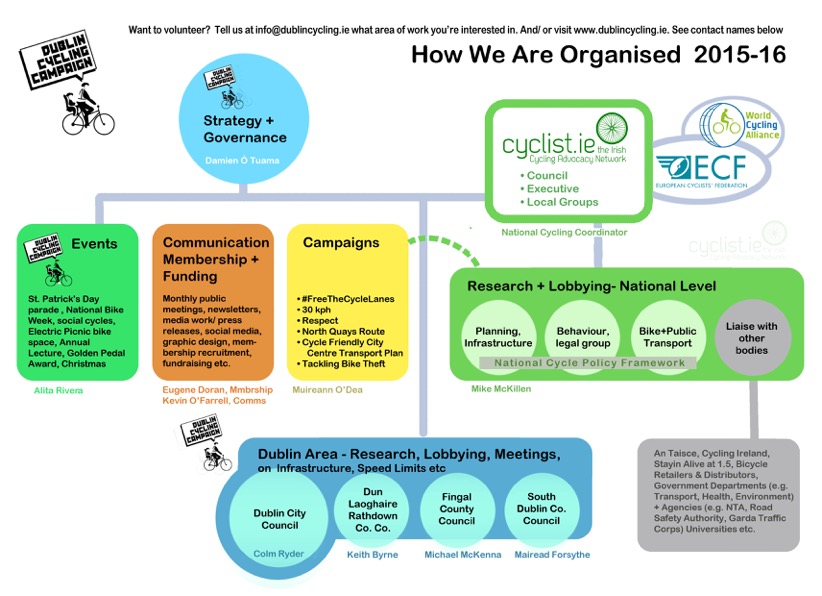 How we are organised - Campaign organisation chart
Over the last 20+ years, Dublin Cycling Campaign has evolved into a very well organised voluntary body. We are continually growing with new volunteers contacting us all of the time looking to help out.
The chart above aims to show graphically the main domains (or work areas) that we concentate on - both within Dublin Cycling Campaign and within Cyclist.ie (which lobbies at a National level on everyday cycling issues).
For some volunteers their skills are more 'people-focused' and they are adept at helping to run events or at communicating our message via social and more traditional media. Other volunteers are more technically oriented and give us great help in examining transport plans and policy documents and the like; their energies can be directed into Dublin issues (shown in blue) or those at a National level (shown in green on the right). Other members still prefer to get stuck into working on particular campaigns (shown in yellow in the middle) such as 'Tackling Bike Theft' or 'Love 30km/h' or #freethecyclelanes.
Whatever your skill-set or main interest, there are many ways you can get involved and hence help make cycling safer and more normal in Dublin!
Thursday, 5 January 2017 (All day)