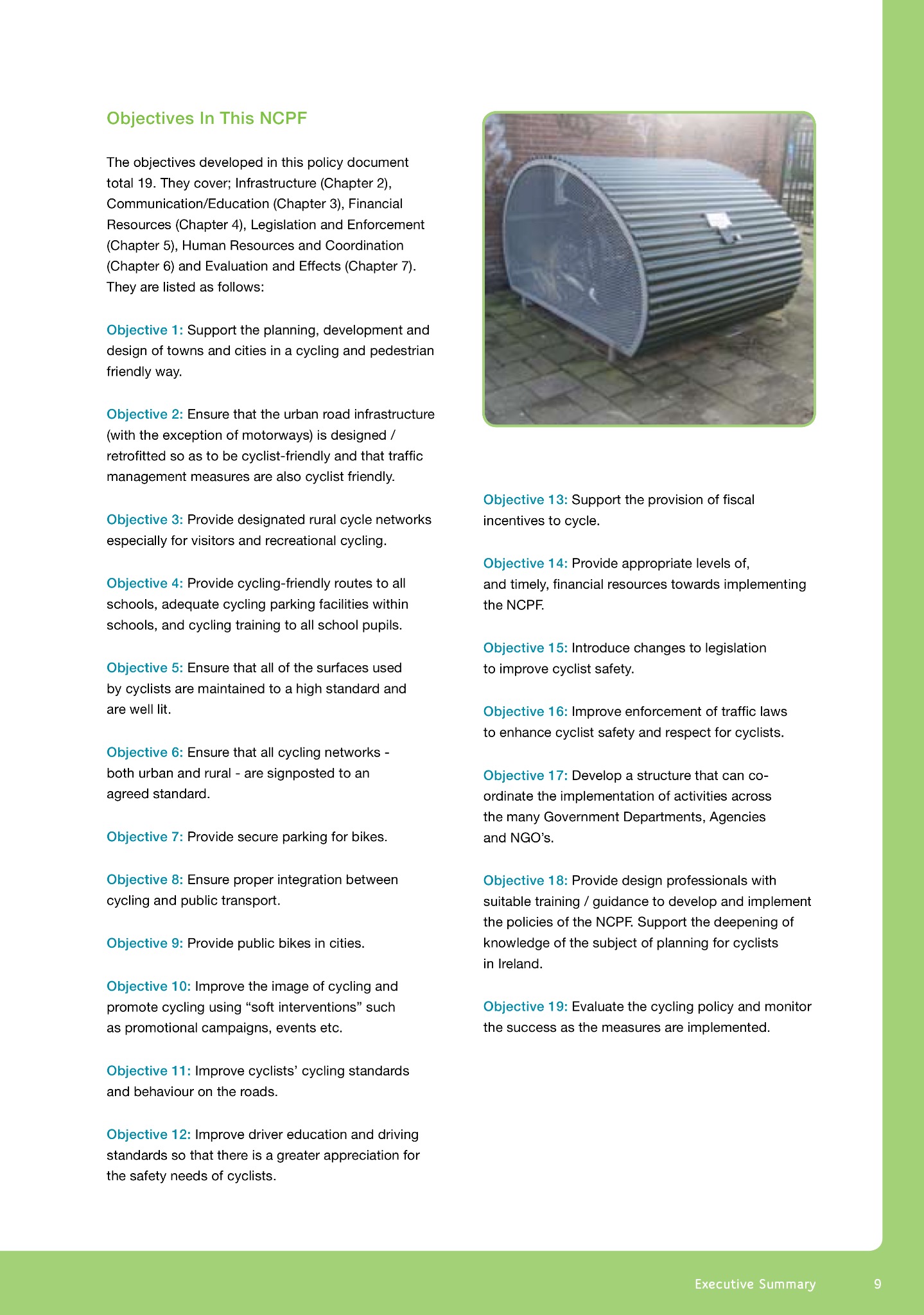 Ireland's National Cycling Policy
In our GE16 Demands for Cycling, one of the top three is "Implement in full the National Cycle Policy Framework (NCPF, 2009)"
What is the National Cycling Policy Framework ?
In April 2009, the government published Ireland's first National Cycle Policy Framework (NCPF) . It outlined 19 high level objectives and detailed the 109 individual but integrated actions, aimed at ensuring that a strong cycling culture is developed in Ireland so that by 2020 10% of all journeys will be by bike.
At the time, the NCPF broke new ground as a National level policy document that set a serious target for modal share of cycling in Ireland - 10% - and this effectively means that we needed to get to 20% modal share for cycling in Dublin. It is currently only approx. 2% at national level and 8% within Dublin City (CSO, 2012), way off the targets set in the NCPF.
Why is it important for the General Election in 2016 ?
Dr. Damien Ó Tuama, the National Cycling Coordinator for Cyclist.ie, stated:
while Ireland has had a sophisticated National Cycle Policy since 2009, the implementation of it over the last 7 years has been piece-meal at best. There is still a complete lack of engagement with the need for children to enjoy the standards of independent mobility that children 20 years ago enjoyed. We need to recognise that many northern European countries with high standards of living have put the bicycle at the centre of the public health and mobility policies, and now they are benefitting from far lower levels of congestion, lower C02 emissions and a far healthier population which saves their taxpayers countless billions of Euro in health care costs.
Appointing a National Cycling Officer in the Department of Transport is also a crucial step in being able to implement the NCPF effectively.
So we are asking that over the coming weeks, when #GE16 election candidates will be knocking on doors, please explain why everyday cycling makes so much sense and why we need a national cycling officer in the Department of Transport plus a budget of 10% of total spend on transport to oversee the implementation of the NCPF.
Please find PDF of Ireland's Cycling Policy below should you want to examine it in more detail.
News Item

dot_national_cycle_policy_v4.pdf
Friday, 12 February 2016 (All day)