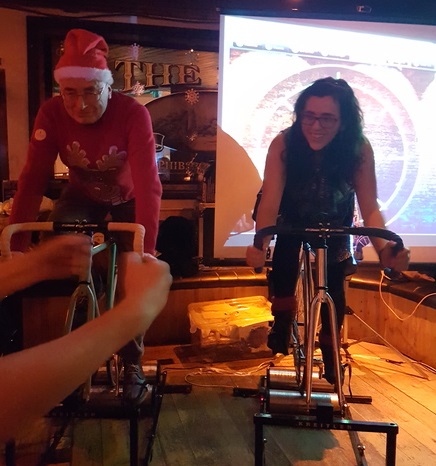 Olympic Levels of Cycle Racing & Mingling at 2016 Bicycle Christmas Party!
Olympic records for both sprinting and mingling were smashed to bits at last Saturday's Bicycle Christmas Party! Courtesy of the Goldsprints Bicycle Racing & DJ crew from The Bike Institute on Dorset Street, we enjoyed a fab night of tunes, racing and relaxing in the lovely Back Page pub in Phibsborough. Nice pizza to boot. Pictured above in the heat of the action are Campaign members Nuala, Aoife, Colm and Alita!
Great to see so many new faces dropping in - including the folks from Phizzfest (Phibsborough Community Arts Festival), with whom we hope to collaborate on events in 2017. We were also impressed with so many of our international guests / Campaign fans from as far away as Argentina, Spain, Ethiopia, Turkmenistan, the States and England popping in and getting into the swing of things!
We wish to pay a sincere thanks again to our friends - Seán, Seán and the gang - from The Bike Institute for running the Goldsprints Bicycle Racing show - we'd highly recommend them if you were thinking of running a music and bicycle racing party at any stage (in your workplace for example…). We were particularly impressed with them transporting all of their heavy gear and goods on their cargo bikes and ridiculously fancy trailers which they stock. Dedicated bicycle people!
A hearty thanks also to those individuals and organisations who donated lovely prizes for our raffle - 2 Wheels (South William Street), McDonalds of Wexford Street, the National Transport Authority and the Road Safety Authority. We'd be delighted if you can support those bike shops who have supported us.
Finally, Dublin Cycling Campaign is beginning to work on its schedule of events for 2017 - including the St. Patrick's Day Bicycle Float, Bike Week, Social Cycles, Electric Picnic etc. Do give us a shout if you fancy helping out with creating some great bicycling events next year - we're always on the hunt for new ways to promote cycling AND have a good time!
Many thanks.
Your Dublin Cycling Campaign Event Team
PS - We still have a few Gift Membership Cards for the Campaign remaining - in case you decide you'd like to buy a friend a fine cycling present that helps support us too! Details here.
News Item
Tuesday, December 13, 2016