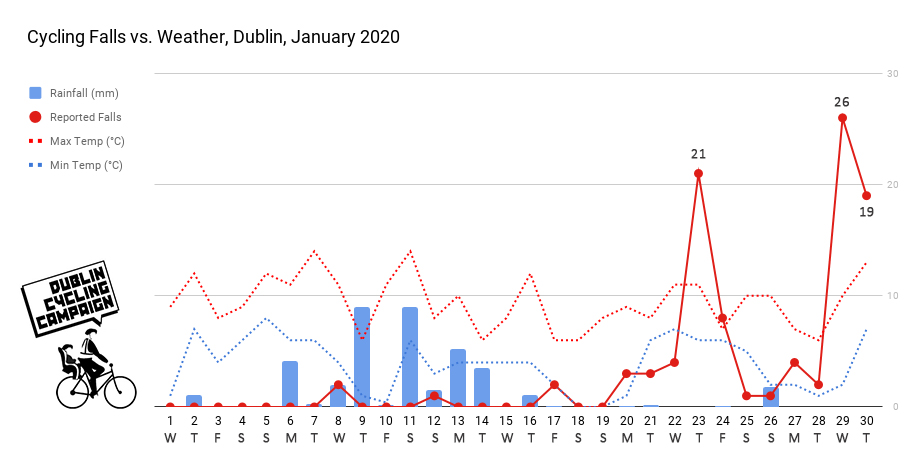 Hazardous Roads Cause Spate of Cycling Falls Across Dublin
Dublin Cycling Campaign has issued an alert after a large number of people reported slips and falls while cycling in Dublin in recent weeks. Over a hundred people fell from their bikes at various junctions across the city throughout January, with many of them suffering injuries.
After noticing multiple social media posts about cyclists being hurt, Dublin Cycling Campaign issued an appeal for information from victims and witnesses. More than 120 people have so far responded with accounts of cyclists suffering falls related to greasy road surfaces.
While many of the victims have escaped with nothing worse than cuts and bruises, others have reported more serious trauma, including fractures. One of the victims, who fell at a junction in Stoneybatter, reported that he had suffered a dislocated elbow which required surgery, and that while he was "waiting for the ambulance to arrive two other cyclists fell at the same corner."
Dublin Cycling Campaign has mapped out the locations of reported falls across the city centre [Interactive map here].
"What quickly became apparent to us," says Dublin Cycling Campaign's chairperson Kevin Baker, "were clusters of falls in the vicinity of major construction sites near Dublin city centre."
The construction sites at the centre of the clusters include The National Children's Hospital site in Kilmainham, the new Technical University of Dublin (formerly DIT) campus in Grangegorman & Broadstone, as well as multiple major construction sites in the Docklands area.
Analysis of the dates upon which the falls occurred showed a spike in the number of falls on three specific dates: Thursday 23rd, Wednesday 29th, and Thursday 30th January 2020. The most straightforward explanation for these falls would be wet or freezing weather conditions, but Met Éireann's weather station in the Phoenix Park reported no rainfall on any of these three dates, and the temperatures never dropped below freezing.
"Our hypothesis is that heavy vehicles travelling to and from these construction sites are depositing dirt and oil on our streets," says Baker. "The lack of rain could have led to a build-up of these hazardous materials, creating greasy slicks in many areas."
"If we are only relying on rainfall to keep our road surfaces clean and safe, then that is not nearly good enough," says Louise Williams, vice chair of Dublin Cycling Campaign. "It is the duty of those responsible for creating these hazards to make sure our streets remain safe for people who cycle. We are extremely concerned for the safety of people trying to get around Dublin by bike."
Dublin Cycling Campaign has submitted an urgent request to Dublin City Council asking for specific junctions to be thoroughly cleaned immediately. These are the 10 junctions where multiple slips and falls were reported:
Macken Street

&

surrounds (7 - falls reported in this area)
Thomas Street

&

Thomas Court (6)
Rialto Roundabout (3)
Blackhall Place

&

King Street (3)
Ormond Quay

&

Swifts Row/Jervis Street (3)
Gardiner Street

&

Beresford Lane (3)
Gardiner Street

&

Dorset Street (2)
North Strand

&

Seville Place (2)
Lincoln Place

&

Westland Row (2)
James Street

&

Echlin Place (2)
Dublin Cycling Campaign is also advising people to take additional care when cycling along the following routes, particularly at junctions and especially after prolonged dry spells:
All along the Liffey Quays, between Heuston Station and the Tom Clarke Bridge
North Circular Road
South Circular Road
All streets running alongside the Grand Canal
The Docklands area, especially in the vicinity of construction sites
All street adjacent to the National Children's Hospital Site/St. James' Hospital
All along Gardiner Street, and continuing onto Dorset Street Upper

&

Lower Drumcondra Road.
If you have suffered a slip while cycling in Dublin over the past few weeks, please report the incident to Dublin Cycling Campaign via this online form.
---
Press release
Sunday, 2 February 2020 (All day)