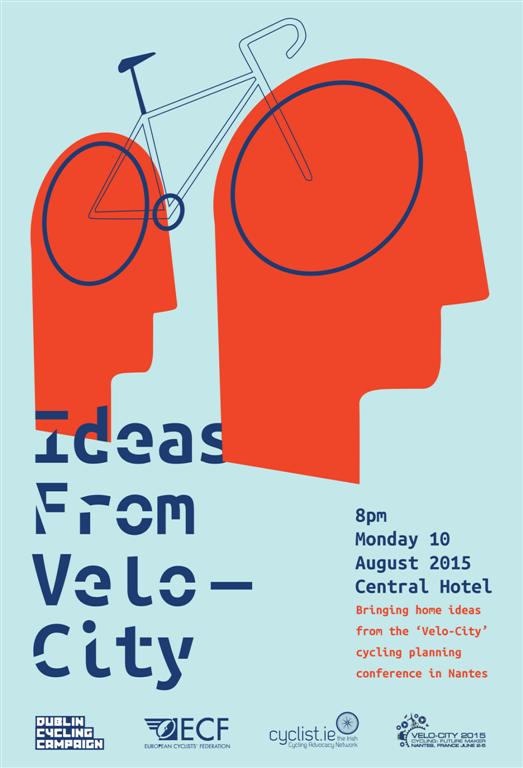 Ideas from Velo-city 2015: Speakers' presentations
We had a packed house for Dublin Cycling Campaign's public meeting on Monday 10th August! The focus was on the lessons delegates from Ireland took from attending the fabulous 'Velo-city' International Cycling Planning Conference held in Nantes in June. We had nine terrific speakers joining us on the night in the Central Hotel, listed below.
A sincere thanks to each and every one of them for their observations on interesting developments from abroad on the cycling planning front - and for delivering their presentations within a very tight time-frame! This is easier said than done. PDF's are attached below for those speakers who used slides.
Dublin Cycling Campaign and Cyclist.ie will continue the conversations generated at this meeting at future events and on various online fora.
Barry Flood (CTC Northern Ireland and European Cyclists' Federation)
Colm Ryder (Dublin Cycling Campaign and Cyclist.ie)
Barbara Connolly (Cycling Ireland)
Mike McKillen (Dublin Cycling Campaign and Cyclist.ie)
Catherine Swift (Sligo Cycling Campaign and Cyclist.ie)
Perry Chitombo (Dublin City Council)
Eoin Ó Catháin (Roughan O'Donovan)
David Conway (Roughan O'Donovan)
Damien Ó Tuama (Cyclist.ie)

colm.pdf

barbara_c_-_ci.pdf

mike.pdf

perry.pdf

eoin_and_david.pdf

damien.pdf
Tuesday, 11 August 2015 (All day)