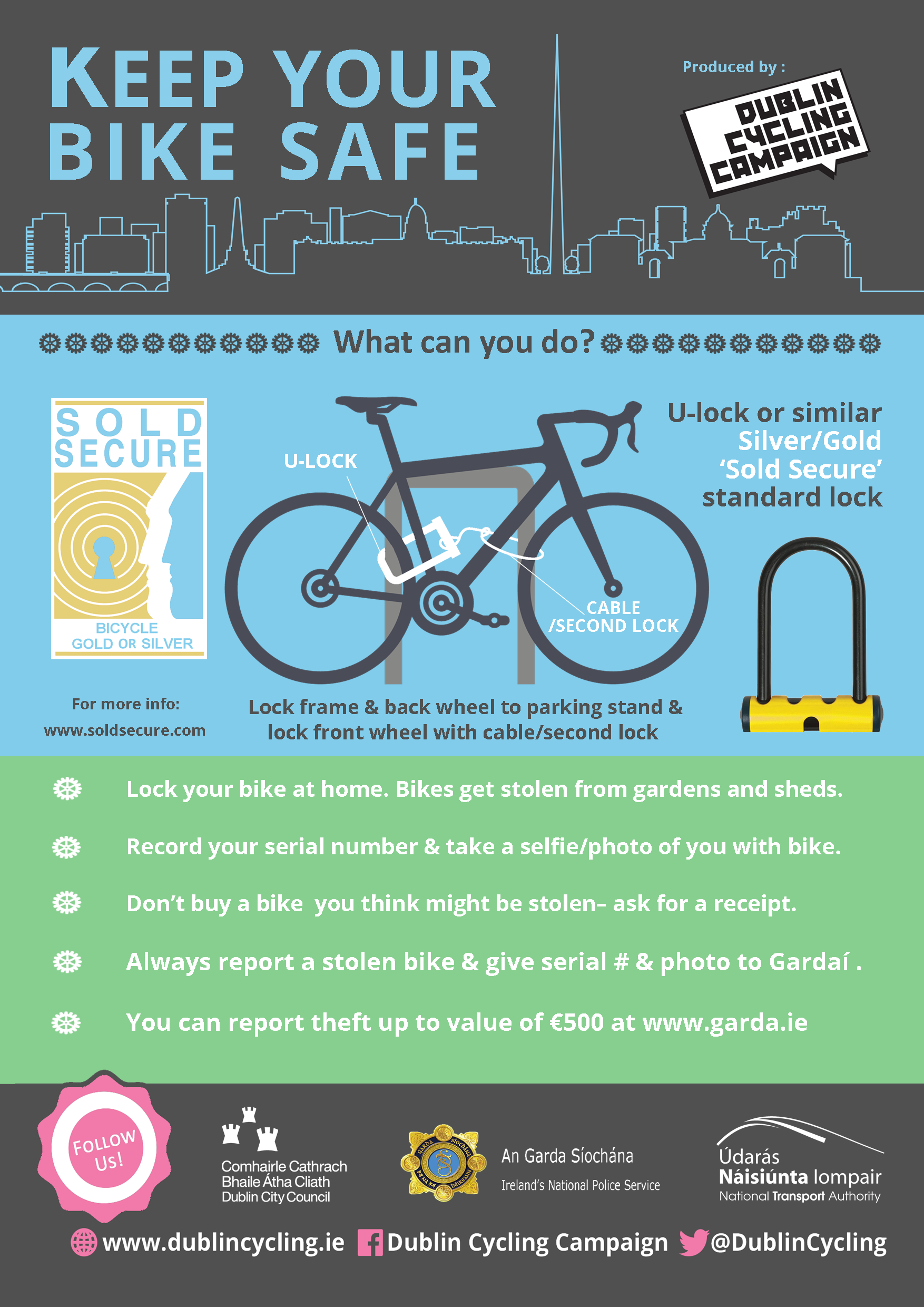 Spend money on a bicycle lock or pay the price
Spend money on a bike lock cyclists or pay the price - Bike Theft Working Group.
4,950 bikes reported stolen in Dublin in 2014, up from 1,873 in 2008.

66% of bikes stolen in Dublin are locked using easy-to-cut locks and chains.
Cyclists need to use better locks and lock their bikes when at home to avoid being victims of bike theft according to a Bike Theft Working Group that has been set up through Dublin City Council.
An tArdmheara, Críona Ní Dhálaigh, launching the Bike Security Campaign, said "The main aim of the campaign is to raise awareness of the issue of bike theft and alert cyclists to the need to use higher quality locks to lower the risk of their bikes being stolen.  It is vital that cycling is supported and encouraged in the city and a big part of this is to reduce bike theft.  Beidh níos mó misneach ag daoine rothaíocht sa chathair má cheapann siad go mbeidh an rothar slán ann".
A Dublin Cycling Campaign survey from December 2014, showed that 66% of bikes stolen in Dublin are locked using cable locks or cheap chain and padlocks and, according to the group, these can be easily cut through and offer limited security.
The Bike Theft Group recommends that cyclists use U-locks with the Sold Secure accreditation as their main lock, with cable or chain and padlocks only to be used as a secondary lock. Sold Secure is an independent rating system for locks.
4,950 bikes were reported stolen in Dublin in 2014, an increase of 3,122 since 2008, (+167%), the year before the Bike to Work scheme was introduced. It is believed however, that there is a large degree of under-reporting and based on survey data from UK and Northern Ireland, the actual number of bike thefts is likely to be a multiple of that figure.
The Bike Theft Group has this advice for cyclists:
Use U-locks with the Sold Secure accreditation, Silver or Gold` standard.
Lock your bike at home – bikes get stolen from gardens and sheds.
Record your serial number and take a selfie/photo of you with bike.
Don`t buy a bike you think might have been stolen – ask for a receipt.
Always report a stolen bike and give the serial number and photo to Gardai.
You can report theft up to value of Eur 500 online at www.Garda.ie
Quoting from the same survey from December 2014, Dublin Cycling Campaign says that 1 in 6 victims of bike theft in Dublin stop cycling altogether and a further 26% reduce the amount they cycle following bike theft.
David Timoney from Dublin Cycling Campaign said "The evidence from our own survey as well as surveys in the UK shows that there is a strong link between bike theft and cycling numbers. If we are serious about achieving the ambitious targets for cycling modal share in Dublin, bike theft is one of the areas that needs to be tackled."
The Bike Theft working group was set up earlier this year to tackle the growing problem of bike theft in the city and has representatives from An Garda Síochána, the National Transport Authority, Dublin Cycling Campaign, Bike shops and Dublin City Council. "London and Amsterdam in particular have had great success in reducing bike theft in recent years and with all stakeholders working together through this Bike Theft Group we aim to achieve the same in Dublin" says Councillor Ciaran Cuffe, who chairs the group.
The National Transport Authority (NTA) representative on the group, Cormac Ross, says that "With the significant increase in cyclists in Dublin in recent years, bike theft has become a more  serious  issue. The National Transport Authority is happy to collaborate with other key stakeholders in a joint effort to address bicycle theft in a targeted way.  The use of higher quality locks by cyclists is likely to result in the most significant positive impact on theft numbers in the short term, and this initiative is focused on the delivery of that key message".
"The NTA will be communicating this message and posters nationally through our Smarter Travel & Green Schools Programme, which complements a previous NTA bicycle parking awareness initiative. In addition, the NTA funded a Bicycle Parking Study, undertaken by Dublin City Council, during 2015. The NTA is currently funding measures recommended in that study, which include  an increase in well-located on-street cycle parking facilities around the Capital, as well as the development and expansion of secure off-street cycle parking at Drury Street and elsewhere".
[PDF of our infographic is available below]
Press release

sketch_dublin_cycling_campaign_v2.8.pdf
Monday, 19 October 2015 (All day)